Posted : 7 years, 4 months ago on 25 February 2011 08:36 (A review of
The Shawshank Redemption
)
This is quite simply,the best film ever made. Taken from a short story by Stephen King,it turns out to be a true cinematic masterpiece. It takes you through just about every single emotion possible, happiness, sadness, elation, fear and jubilation at the end. The more you see this movie,the more you appreciate just how amazing it is. Each time you watch it you pick out something extra that you hadn't noticed before,and that only adds to your appreciation of it. Tim Robbins' character is one you sympathize with right from the word go,you're rooting for him all the way through the movie,when he has his run-ins with Boggs and his cronies,to when you see him on the beach and he sees Red walking towards him. I know nothing about lighting,editing,or abstract plot development. But I know an awesome movie when I see one,and this is most definitely one of those. See it,be amazed,then see it again and be even more awestruck by its magnificence

0 comments,
Reply to this entry
Posted : 7 years, 4 months ago on 25 February 2011 08:35 (A review of
Stand By Me (Special Edition)
)
This movie is about innocence, friendship and adventure. Teamed with a witty script and an extremely talented cast, I was utterly blown away upon viewing it. Wil Wheaton, Corey Feldman, Jerry O'Connell and the extremely talented, River Phoenix, who in his young career showed the promise of a Clift, Dean or Brando. This film made him and made audiences take a closer look at young actors. These four 12-year-olds are friends who take a journey to see a dead body back in the 50's, with funny-man Richard Dreyfuss as the narrator, this movie is definitely one to rent. I have never enjoyed a movie as much as I have this one.

0 comments,
Reply to this entry
Posted : 7 years, 4 months ago on 25 February 2011 08:34 (A review of
A Little Princess
)
Sara Crewe is a young girl who loves to tell creative stories. When her father, whom she is very close with, has to go fight in the war, Sara has to go to New York to attend a board school over there. A school where Saras late mother also attended, when she was a young girl. When Sara meets Miss.Minchin, the schools mean headmistress, they don't get on as Miss.Minchin doesn't like Saras stories or creativity and the fact that Sara believes "every girl is a princess". Than when Saras father has reportedly died in action, Miss. Minchin makes Sara a servant in the school.Sara still believes "every girl is a princess" though and convinces everyone else in the school the same thing, she carries on telling her stories and stays happy and true to herself. This remains one of a very few movies to have moved me to tears. Child roles are usually poorly played, but the girls in this movie are truly brilliant meaning you are brought into the world of innocence and imagination that only childrens minds can conjour. Then, you find yourself willing the lead role through her adversity and against her pain. If I had to describe it in one word; magical.

0 comments,
Reply to this entry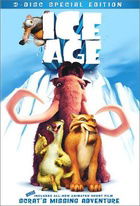 Posted : 7 years, 4 months ago on 25 February 2011 08:33 (A review of
Ice Age (2-Disc Special Edition)
)
While the animation was sometimes corny (especially the humans), the dialogue between the characters was entertaining and sarcastic to say the least. Ray Romano fully embodied the bitter Manfred, and John Leguizamo's slobbery voice fit in nicely with Sid's persona. Denis Leary was also a standout, making his presence felt even though his character wasn't meant for comic relief. A funny, solid film that doesn't last too long (only 81 minutes) and doesn't overdo any jokes. While the story turned out to be predictable, the little interludes with Scrat were rather entertaining.

0 comments,
Reply to this entry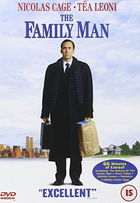 Posted : 7 years, 4 months ago on 25 February 2011 08:32 (A review of
The Family Man
)
This really is a brilliant and satisfying motion picture. Every facet is polished, every actor perfectly cast. The concept has been condemned as a "steal" from Frank Capra, but it isn't; it's a universal wish made reality, if possibly by magical means. Tea Leoni continues to polish her work. She is a glowingly beautiful woman who can act. She almost steals the film from Nicholas Cage, but that is impossible. Cage is - if one can say this - the new James Stewart. His voice, his lanky physique, even his gestures are Stewart-esque. No wonder he got this role. Cage shines as this Jack Campbell, whether the man is an arbitrager with a carbon steel soul or a gentle, bemused husband and father. Cage is so good at this dual personality that it's clear that he still can play the guilt (sic)-edged, slightly deranged and/or highly dangerous types that have built his career, in spite of worried critics who think otherwise. One reads reviews of the film that praise with faint damns, and vice versa, because "Family Man" leaves a good feeling. What's wrong with that? The well-woven characters with interesting, contrapuntal flaws keep the film from being gooey.

0 comments,
Reply to this entry
Posted : 7 years, 4 months ago on 25 February 2011 08:32 (A review of
Forrest Gump (Two-Disc Special Collector's Edition)
)
This film has everything that a person could want; action, romance, sentiment, comedy and yet people still slate it, I really don't understand! This is one of my favorite films of all time, and Tom Hanks is one of the greatest actors of our generation in my opinion and so I find it very difficult to see why people dislike it so much. The storyline itself is great, it's brilliant in its simplicity - basically the story of a young boy's life, and the amazing things he does with it. Each character brings something else to the story that adds to its brilliance and all the actors in it play their parts with the utmost talent, especially Tom Hanks and Robin Wright. As many of my friends know, I often watch this film burning with fury at Wright's character Jenny and the way she treats her supposed best friend Forest, and that is the sign of a good actress; someone who can really make you feel emotion towards the character they are playing. The same principle can be adopted with Tom Hanks; the first time I saw him sitting on that famous bench at the beginning, I felt a lump in throat. You cannot help but like the character, and no-one could have played him as well as Tom Hanks did. This film is a masterpiece, and one of the few truly good films of recent years. It deserved every Oscar that it received and I suggest to all those who don't like it, you must be missing something, as in my view it is impossible to not enjoy this film.

0 comments,
Reply to this entry
Posted : 7 years, 4 months ago on 25 February 2011 08:31 (A review of
Rudy (Special Edition)
)
"Rudy" is another one of those movies that shows you that anyone can make a difference. Even if they're at the bottom. But what this movie has over the other is that they do it with a lot more spice and character. Sean Astin plays a character who's been through too much; but never seems to give up, no matter what the costs. Astin accomplishes this to it's total capacity. By showing the audience that working hard, never giving up, and giving it your best shot could inspire anyone to accomplish anything. Astin is also well suited for the role for his reflection of pursuit, emotion, and talent to take in the bad and the good influences. Overall, this is the type of movie that makes you want to check out other David Anspaugh (director) and Sean Astin movies.

0 comments,
Reply to this entry
Posted : 7 years, 4 months ago on 25 February 2011 08:30 (A review of
Titanic (Widescreen Edition)
)
What a fantastic Epic of a movie. The Drama, romance and that ship. This movie is the ultimate tier jerker. Every one I know has seen it and regardless if it was a male of female, all admitted to shedding a few to this movie. The score for the movie which is composed by James Honer is so haunting it's makes the hairs on my neck stand up. Writer/Director James Cameron, has created an almost realistic journey back to 1912, aboard the largest ship ever built on it's maiden voyage to destiny. Rose Dewitt-Bukator is an 18 year old girl in first class, trapped in an upcoming marriage with a man who she does not desire. Jack Dawson is a 20 year old man in third class who is just another person looking for opportunity back in his homeland of America. During the voyage, they meet unexpectidly in a rough situation. From then on, the two fall in love, going against all of Rose's mother's and Fiancee's dreams for her. When the ship collides with an iceberg and begins to founder, she must choose between true love, or the love that has been chosen for her. Overall, this is a film that gives new meaning to great cinema!

0 comments,
Reply to this entry
Posted : 7 years, 4 months ago on 25 February 2011 08:29 (A review of
Election
)
The rules of politics are thrown out the window as Tracey Flick (Reese Witherspoon) will do just about anything to become class president. Just her luck then, that she has a teacher - Mr. MacAllistar (Matthew Broderick) who holds a major grudge against her plus the other two running - one a nice but dim-witted jock (Chris Klein), the other a revenge-seeking lesbian (Jessica Campbell) are both hoping to win the election. It's delightfully sick and twisted - but in a good way. A comedy of the black kind, with great editing - each of the main characters gets their chance to narrate, giving us an insight into the characters and making them more than just made-up people on a screen) and the acting is brilliant. Witherspoon's Tracey is award-winning. She's obsessive, cute, a bit neurotic and Reese does all of this - and moore - with seeming ease. Broderick, Klein (American Pie) and Campbell are also perfectly cast. All in all, this is a very good film that puts a completely different spin of 'teen high-school flick'.

0 comments,
Reply to this entry
Posted : 7 years, 4 months ago on 25 February 2011 08:28 (A review of
The Man in the Moon
)
I saw this movie for the first time about a year ago and its been with me ever since. Its a wonderful story about growing up and learning to love. It tells the story of first love in two different ways. At the same time its a story about friendship, forgivnes and love between two sisters. I love this movie and I get chocjed up every time I see it. The movie is charming and very touching and when you see it you really feel that you know the persons in the movie. A word that would describe this movie best is love because the movie is about love told in a very realistic way but still very romantic. I recomend it to everyone and hope that everyone will see it because its a really great movie.

0 comments,
Reply to this entry