sux2bu

Add sux2bu as a friend

sux2bu will be notified and will have to accept this friendship request, to view updates from sux2bu and their ratings you must follow them.

Remove sux2bu as a friend



Lists
Recent reviews

Posted : 12 years, 2 months ago on 18 March 2011 08:35 (A review of
True Romance
)
This is the greatest movie I ever saw. I never wanted to write a review on True Romance becuse I knew I could never give it justice, but I think I am ready now. The story is a throwback to the old 'lovers on the run' formula, among others- Clarence (Christian Slater in one of his finest) is an employee in a comic book store in Detroit, loves kung-fu movies and big guns and such, who gets set up unwittingly with a call girl named Alabama (Patricia Arquette). The two fall in love, and Clarence feels confident enough by a certain voice in the back of his head (Val Kilmer as Elvis) to go and free Alabama for good from her vile pimp and drug dealer Drexl (Gary Oldman in one of the better villain roles of the time). He does, and through a couple of accidents Clarence and Alabama wind up with millions worth in cocaine, and high-tail it to LA to sell it, as the original (mob) owners of the coke follow after, with explosive results. If my summery doesn't draw you in what about a cast includes Val Kilmer, Dennis Hopper, Gary Oldman, Brad Pitt, Christopher Walken, Bronson Pinchot, Samuel L Jackson, Victor Argo, Michael Rapaport, Saul Rubinek, James Gandolfini, Chris Penn and Tom Sizemore has to be at least worth checking out! I have seen so many movies that were loaded with stars that have been so disappointing, but not this movie. Each one of this actors took thier small roles and made them memorable. I've seen this movie about 20 times now and, although I'm no longer surprised by the plot twists, I am still fascinated by the cast, the music, the direction. I like this movie quite a bit more than Pulp Fiction. This film was written by Quentin Tarantino and directed by Tony Scott and came out a few years before Pulp Fiction. If you are really interested in this film be sure and get the DVD with all of the comments from the cast, producers, director, writer, etc.

0 comments,
Reply to this entry

Posted : 12 years, 2 months ago on 18 March 2011 08:34 (A review of
She's the Man
)
At first, I honestly thought it would be a corny movie. But after seeing this, I was quite surprised. Amanda Bynes was convincingly funny along with the supporting cast - David Cross always makes funny charchter. Viola (Amanda Bynes) is a tomboy and a soccer star on the women's team at Cornwall Prep. Her life is soccer, which becomes a problem when her school cuts the women from the sports program. Better than most of the boys, Viola wants to suit up with them but is snubbed by both the coach and the team's captain – her boyfriend. So it's "end of discussion … end of relationship." Viola hatches a plan to pursue her sporting dreams at rival school Illyria, where her twin brother has just enrolled. Twin brother, Sebastian, is skipping off to England for two weeks and nobody at Illyria has ever met him. It's pretty obvious what happens from here. Viola disguises herself as her brother and moves into the dorms where she meets her roommate and fellow soccer player Duke (Channing Tatum). She begins to gear up for Illyria's season opener against Cornwall and has to navigate a complicated love-triangle, in addition to other challenges like taking a shower alongside her male teammates, without them finding out about her girl parts. All in all, the film was a surprisingly entertaining girl power celebration, with lots of laugh out loud opportunities.

0 comments,
Reply to this entry

Posted : 12 years, 2 months ago on 18 March 2011 08:33 (A review of
Shallow Hal
)
Hal Larson is an average looking guy that has a big flaw: he is too shallow when the subject is women,finding flaws and every girl he meets and always dreaming with a difficult or an almost impossible standard. This make problems even for himself, since he never gets the girls he is attracted to. One day, inside the elevator, Hal meets a very famous guru called Tony Robbins, and when Hal explain his problems with girls the guru helps him with that: now, he will only look the inner beauty of the people, and in this way have success with the ladies. For Hal, life couldn't be better, since he is going out with lots of 'pretty ladies',but his friend Mauricio is really disturbed, specially after Hal introduces Rosemary, his new girlfriend, to Mauricio. Hal sees Rosemary as one of the most beautiful women he already met, but Mauricio sees a 300 pounds horrible lady. I know this movie is a comedy, but it has some very touching moments as well.

0 comments,
Reply to this entry

Posted : 12 years, 2 months ago on 18 March 2011 08:33 (A review of
The Ex
)
This 2007 film was an unexpected treat. The script is well-written, engaging and funny. The hyperbolic characters are well-developed with emotionally real and earthy personalities, and they interact at all levels--- rural and urban caricatures going through the stresses of marriage, having babies, holding jobs, competing for love, attention, fame and fortune. The actors (young and old) are generally clever and funny, offering excellent support for the witty script, and all do a great job. The film is well-paced and interactive, and the directing cleverly enhances the great script and excellent acting performances.

0 comments,
Reply to this entry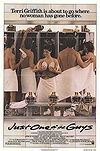 Posted : 12 years, 2 months ago on 18 March 2011 08:32 (A review of
Just One of the Guys
)
Terry Griffith is a senior at high school senior who's got it all -- she's pretty, popular, has a college boyfriend, and is a shoo-in to win a contest for her dream job in the form of a summer internship at the local newspaper. When Terry's article is rejected, she's convinced it's sex discrimination. Determined to land the job, Terry turns to drag with the help of her younger brother Buddy and her best friend Denise, and attends a rival high school to submit her article as a guy. She soon befriends loner Rick, and the situation gets complicated when Terry realizes she may be falling for her new pal, all the while fending off a bully and a girl who's set on pursuing "Terry the boy." The idea isn't exactly new, but is executed well with a girl who's at least somewhat believable as a boy. The male version of Terry does bear a striking resemblance, as "his" greatest admirer Sandy points out, to "the Karate Kid." The real credit in this film goes to the supporting cast. Jacoby is perfect as Terry's sex-obsessed younger brother (his best line comes when going to answer the door: "What are the odds it's a homeless nymphomaniac?"), Hudson is charming as Terry's often overlooked best friend, and Rohner is fantastic as outcast-turned-heartthrob Rick. What's often awkward is Joyce Heyser's portrayal of Terry. When she's portraying her alter-ego this can be excused as in-character, but even the feminine Terry seems uncomfortable in her own skin. Her movements are jerky, her gestures reminiscent of a bobble-head, and she smirks far too often for someone who's having gender identity problems, dodging a bully, and fending off the advances of a girl who has no idea she lacks a Y chromosome. Overall, Just One of the Guys is humorous and fun. It has to be one of the funnier '80's comedys.

0 comments,
Reply to this entry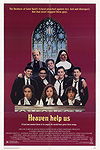 Posted : 12 years, 2 months ago on 18 March 2011 08:31 (A review of
Heaven Help Us (1985)
)
When I first saw this movie I was 15, and thought it was best movie ever. The central character is Michael Dunn (Andrew McCarthy), who is new to St. Basils and has yet to learn of it's sadistic rituals and largely paranoid and overbearing Brothers. Dunn makes friends with self-proclaimed genius, Caesar (Malcolm Danare) who's seems to have a excuss note in his pocket for every occasion. Dunn and Caesar eventually join forces with underachiever, Rudy (Kevin Dillon), quiet Corbet ( Patrick Dempsey's movie debuet), and self gratifing record holder (Stephen Geoffreys). As such, the five of them get into their fair share of trouble and adolescent antics at St. Basils, which makes for some pretty funny sequences. Mary Stuart Masterson costars as Dunn's girlfriend who runs the soda fountain, a sanctuary to the Catholic School students where they can smoke and cuss and whatever without fearing sanctions from the Brother. She's basically just a nice girl trying to get by and seems like a good match for Dunn. Donald Sutherland plays the rather lackluster headmaster at the school. Fr. Abruzzi,(Wallace Shawn) a priest who warns teenagers about lust is pretty funny, and John Heard has a good part as the laidback Brother who seems to be the only buffer between the Brothers and the students. Despite Andrew McCarthy being emphasized as the main character, the whole movie is really Rudy (Kevin Dillon)who has the bulk of funny dialogue and dumb ideas that makes this movie memorable This definatly isn't the best movie ever, but is pretty darn good.

0 comments,
Reply to this entry

Posted : 12 years, 2 months ago on 18 March 2011 08:30 (A review of
My Sassy Girl
)
I never heard of it, and the tittle alone seems unapealing. But Jesse Bradford and Elisha Cuthbert are two of my favorite young actors so I put it at the top of my list. When it arrived at my house nobody in my family seemed interested, so the first chance I got I watched it alone. The movie started a little slow, but the beutiful Cinematography kept me interested. Elisha Cuthbert is Jordan Roark (whose last name becomes a running joke) the ditzy, crazy and perpetually drunk lass whom Charlie Bellow (Jesse Bradford) falls for in one random night where he saves her from potentially injuring/killing herself at the subway. So begins the abusive person versus the Mr straight- laced all round nice guy in comic routine after comic routine, which for the most parts, weren't exactly funny to begin with. And their outings all stem from her dictating where and what time to meet, in which he dutifully obeys, not knowing what's in it for him. The movie seems light and silly the does a complete 180 and turns out pretty deep and moving. I realy enjoyed this movie. Just don't do what I did. I watched it alone.

0 comments,
Reply to this entry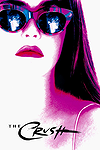 Posted : 12 years, 2 months ago on 18 March 2011 08:29 (A review of
The Crush
)
Imagine an incredibly attractive, intriguing, intelligent man moves in partially in your lap. Is it not natural for you to fall deeply, madly, insanely in love with him? Not quite. That is where the suspense is. You can't help but wonder, "Darian, your already unbalanced. We get that. But how far can you go with this?" Well, apparently, FAR ENOUGH. But what if you're the 30-something man who just happens to innocently rent an apartment in the backyard of a very "well-endowed" young woman? Would you not be a little interested? Of course you would be. But that feeling turns into complete panic when she unravels into a complete psychopath who is out to love you, or is out to get you. Either way, you lose. This is one of those movies that many love to hate, and the rest just love to love. "The Crush" leaves you hanging off your seat in a one-arm grip waiting for it all to unfold. Relatively new to the movie making scene, Alicia Silverstone pulls off the psychopath part off brilliantly. Cary Elwes, a well-established actor by this time, hadden't perfected his 'American' accent yet, but still does a good job. In this movie, you can cut his repressed sexual tension with a knife.

0 comments,
Reply to this entry

Posted : 12 years, 2 months ago on 18 March 2011 08:29 (A review of
Anatomy of a Murder
)
I'm not one for older movie but I caught this one late last night, and noticed a resemblance to A Time To Kill(One of my favorite movies). That and I like Jimmy Stewart I felt I had to watch it. This is one of Jimmy Stewart's best performances. He plays Paul Beigler, a small-town lawyer who defends a man on a charge that he murdered a man whom his wife accused of having raped her. Stewart leaves his stutter and naively cheerful personality behind to create a believable character who is to be taken seriously, although we wind up knowing very little about him personally. Lee Remick plays Laura Manion, the woman making the rape charge. Laura is very beautyful in this movie and very flirtacious. That she should come on to Beigler, a man a generation older and the defense lawyer for her husband, I found funny. It is good to see a young George C. Scott turn in an Oscar-nominated performance as one of the prosecuting attorneys. And Joseph N. Welch, who plays the judge, is one of the highlights. There is a subplot concerning Paul and his older lawyer friend Parnell Emmett McCarthy (Arthur O'Connell). Parnell seems to have a lot of regrets about his career and sees Beigler as a representation of what he was before he took some wrong turns, one such being a turn toward drink. But Paul induces Parnell to become involved with the case and Parnell is transformed by being wanted and being able to contribute. I found this little commentary on how important it is to be valued to be moving and true. I suppose the detailed discussion of the rape was sensational at the time, but that aspect of the film will be lost on contemporary audiences. I doubt that the thought of this being in any way controversial in the context of being sexually explicit would even occur to a younger audience. To summarize, "Anatomy of a Murder" is a fine, entertaining, and riveting courtroom drama with superb acting, fine direction, suspenseful moments, and a great music score.

0 comments,
Reply to this entry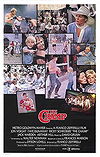 Posted : 12 years, 2 months ago on 18 March 2011 08:28 (A review of
The Champ
)
The first time I saw this movie I cried like a little kid...Oh yeah I was a little kid. To this day I still cry when I watch this movie. It's the story of the love between a boy and his father, and the boy trying to make it on his own when his mother and father can't. It is a story of Jon Voight, "The Champ", a retired boxer and his son and the love the boy has for his father would be any father's dream. Even though the father has his faults (like we all do) he loves his son and tries to give his son a better life. After awhile though, his whole past comes back to him when his son unknowingly meets his mother and develops a bond with her. Conflict between him and his wife rises and we see even deeper into what was a merely a shell of his life in the beginning of the film; he is complicated and emotionally bruised man, snapping sometimes at his son that he loves with all his heart. The film has the most believable performances I have ever seen on screen, and is a tearjerker. But it doesn't try to make you cry once; the entire second half of the film is full of these scenes. Some work while others don't. Either way, it shows the true power and delicacy of unconditional love, and the way it ends leaves you gasping for breath because of the emotional impact it leaves. Not perfect, but pretty close.

0 comments,
Reply to this entry
Movies
TV
Games
Music
Books
Top rated

My books page

Rated 1 books

DVDs
Comments